Hassle Free Third Party Manufacturing Services
We have more than 10 years of Technical and Business Experience in providing OEM Third party services to our clients for New or Existing product design, Product development, prototyping, mold design, tool making, manufacturing, assembly, packaging and sterilization. We provide Wide range of Product in your Brand.
We Provide Third Party Congtract manufacturing and OEM Services for Iv Infusion set, Blood transfusion set, Measured volume burette set, Micro Drip, Infant feeding tube, Ryles tube, Levin Tube, Stomach tube, Urine Bag, Urometer, Urinary Catheter, Foley Catheter, Suction Catheter, Oxygen Mask - Child/Adult, Nebulizer - Pedia/Neonatal/Adult, High Concentration Mask, Guedel Airways, 3way stopcock, Extension Tube, ventilator Circuit, Corrugated Drainage sheet, Cord Clamp, Examination Gloves, Surgical Gloves, Close wound suction Unit, Ambu Bag, Yankuer Set, Karman Cannula, Thorasic Catheter, Pressure Monitoring Line, Scalp vein set, IV Cannula, Nasal Cannula, 3 Ball Spirometer, & More
Production Facilities
0.3 Micron Clean Room
Injection Molding Facility
Extrusion Tubing
Assembly Area
ETO Sterilization
Research & Development
Leakage Testing Facility
Packaging Area
Printing Area
Toxicity Testing Facility
Sterility Testing Facility
Microbiology Lab
Chemical Room
Controlled Storage Facility
Retail Sample Facility
Other Important Facilities
Certifications & Approvals

MDR 2017
CDSCO Approval
WHO-GMP Compliance
ISO 13485
ISO 9001
CE Compliance
Free sale Certificate
IEC Code
Neutral Code
GST/Pan Registration
UAN Certification
Documents Required
GST/Company Registration
Drug Licence
Brand Name
Marketed By Details
Others if Needed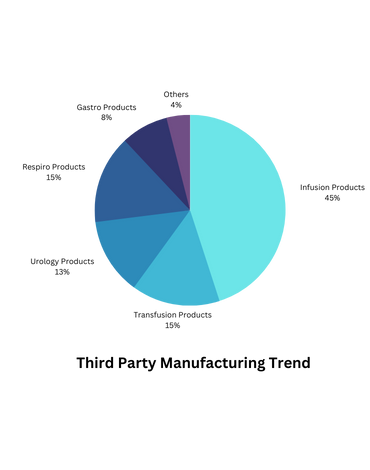 01. Brand Approval
Once you select the product, you have to Give us Brfand name for Approval. Our Consultant will get approval from FDA to start manufacturing on your Brand Name.
02. Documentation
You just have to submit us the Drug licence number and GST/Tax certificates to get the approval on your name and to start the production of your branded products.
03. Production and Delivery
Once all formalities will be completed, we will complete the production and will deliver the goods will all appropriate documents like COA, Sterility testing etc.
how it works?!
Most of the buyers wants their products in own Barnd names and thats good too for them. We support them to get 40+ products in own Brand names. We just need MOQ to start production. We approve Brand names on your behalf, we helps you to create packaging and designing along with materials also. Our expert team will guide you from start to end and hence wll process will be much smoother.
why Dispowell!
Dispowell is one of the Renowned IV set and other 40+ Disposable products manufacturer since last decade. We have Fully compliant facility to deliver you a best quality product along with Inhouse ETO Sterilization and Lab testing Facility. These will help you to market your product with quality in Mind.
FAQs for Third Party Dipsosable Surgical Manufacturing
You need only 2 documents including Drug licence number and GST Certificate or other Tax certification. In case of Export, Please connect us.
Minimum order quantity will be depend on the products. However, we have put this numbers in a way thay even moderate seller can afford to get this.
Nothing!, Our Expert team will handle verything starting from Brand approval, Packaging design selection, Printing to production and delivery. Just Place the order with required Documents and MOQ, Rest is Assured!